If Geology Teachers were a species, then in England they would have just had their 'Red List' status upgraded from VU vulnerable to EN endangered – a high risk of extinction in the wild. There are only two universities where geology teachers are trained for the award of Postgraduate Certificate in Education (PGCE). Bath University had no geologists on their PGCE course last year and Keele University has just announced that its Geology PGCE course is to close this summer after 50 years of training the country's geology school teachers. This now means that there is unlikely to be any further specialist geology teachers to be trained in England.
In a year that has seen major geological news stories, large earthquakes in Mexico, Haiti and Chile, the volcano at Eyjafjallajökull and the Gulf of Mexico oil spill amongst others, geology as a subject in English schools is slowly dying. The mining industry is coming out of recession, as we pass peak oil hydrocarbons become harder to find, in a world of diminishing water resources hydrogeology becomes increasingly important, with increasing populations it becomes crucial to better understand natural hazards such as earthquakes, volcanoes and landslides, alternative energy sources such as geothermal and coal bed methane are now serious contenders, and the construction industry is belatedly cottoning on to the need for a better understanding of the subsurface, geology as a subject in England is being slowly killed off.
To be fair, this has been coming for some years now, since the introduction of the national curriculum. The few bits of geology that are still taught in English schools are, in the main, now taught by chemistry teachers. I don't want to disparage chemistry teachers but in general they don't have the background knowledge in geology to allow them the confidence to teach the subject well. If the situations were reversed, and I had to teach chemistry, I'd give it my best shot but without that foundation in the subject I would struggle, and I certainly could not teach it with the enthusiasm that comes from really knowing one's subject. The other significant education event was dropping the compulsion for English school children to study geography to the age of sixteen. At university level, we used to pick up a significant number of students who came to study geography, really didn't get on with 'human' geography and the things that they thought were physical geography (earthquakes, volcanoes, etc.) they discovered were actually geology. These changes in school education has led to a downward spiral. School children are either no longer exposed to geology or are taught it by teachers who are not specialists in the subject. Fewer go on to study university and ultimately go on to geology teacher training. As specialist geology teachers retire from schools they are either replaced by non-specialists or the geology-oriented courses are closed. Student numbers decline further and the downwards spiral tightens. There are now so few specialist geology courses taught in schools now that there are very few teaching opportunities for geology PGCE students. The lack of career opportunities in geology teaching causes geology PGCE applications to drop. And the spiral tightens further.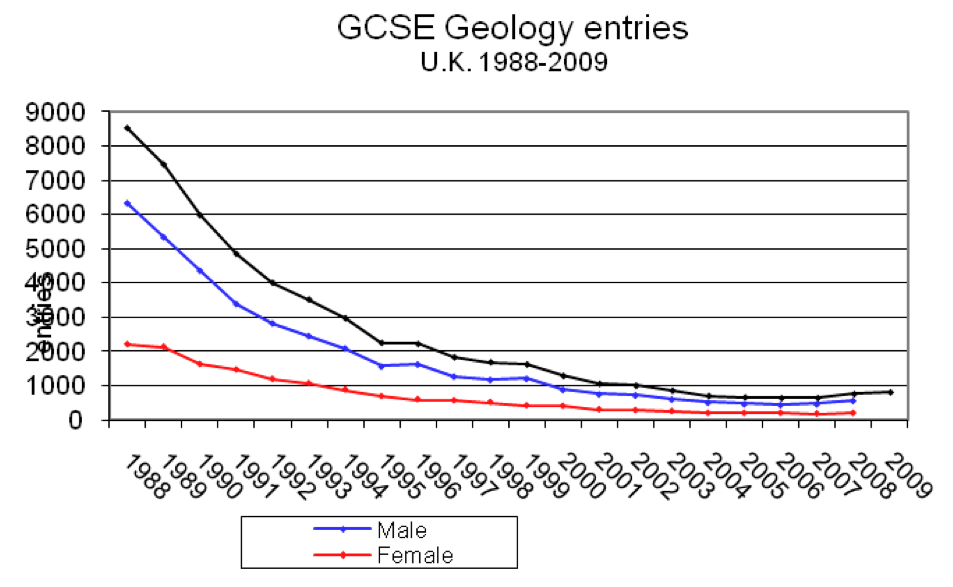 What can be done to reverse this trend? It the cause has to be treated, not the symptoms. It is unrealistic to expect any university to run a loss making course, particularly in the current economic climate, when there is little demand from either potential students or future employment in schools. If geology is to extract itself from the downward spiral, first there needs to be recognition at a national level that geology is of critical strategic importance to the country and is under threat. Certain STEM (Science, Technology, Engineering and Medicine) subjects have a recognised 'Vulnerable' status. These subjects get increased funding. Physics, chemistry and chemical engineering are considered vulnerable subjects of strategic importance by the Higher Education Funding Council for England (HEFCE) but geology isn't. It should be. It is important that geological institutions in the UK should lobby hard for geology's strategic vulnerable status to be recognised. They also need to lobby for a proper recognition of the importance of geology as subject in its own right within the national curriculum. Only with geology taught by geologists in schools will the downward spiral into oblivion be broken. The oil revenue from the North Sea has netted various British governments an estimated one trillion dollars. They have wasted it all. If only a fraction of a percent of this revenue had been given back to the subject that found them the resources in the first place then we wouldn't be in this mess.
Which brings be on to the oil and mining companies. They have largely sat back and let this happen. They might moan about a lack of suitable graduates to employ but they have failed to address the fundamental root problem. They might get persuaded to fund the odd PhD topic or a couple of places on an MSc course in an area that might benefit them in the short term but they have not really engaged with developing the next generation of geologists. Oil companies in particular have profits in the billions annually. If only for their own future, they really do need to help support the training of future geology teachers a lot more than they currently do* and start lobbying for geology as a subject in schools … whilst they still have a subject in the UK to lobby for.
Disclaimer: Although I am employed by Keele University, I have no direct connection with the Education Department that provides PGCE training or the Earth Science Education Unit (other than that the Earth Learning Ideas website is hosted on our geophysics server). As always, this post is written solely on behalf of myself and not the University. My concern is for the future of geology as a subject in England irrespective of where any teacher training may or may not be done.
* The UK offshore operators association (UKOOA) do support the Earth Science Education Unit at Keele (who produce the Earth Learning Ideas for school teachers).