These are some troubling times in British Geoconservation with several geoconservation sites around the country coming under attack from various sources.
First, let's start close to home at Park Hall, Staffordshire.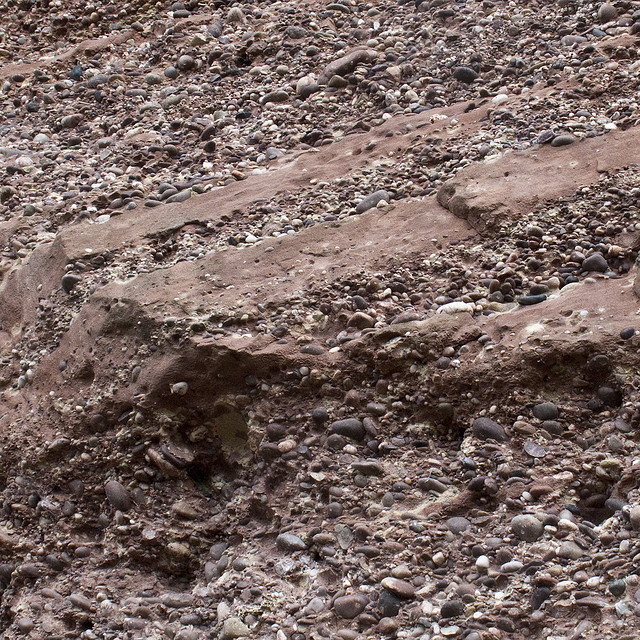 [image: Kidderminster Fm, Park Hall, Staffordshire. source: Ian G. Stimpson]
Park Hall is a SSSI (Site of Special Scientific Interest) and National Nature Reserve (NNR) for its geology (Lower Triassic Kidderminster Formation [formerly known as the Bunter Pebble Beds]) exposed in former aggregate quarries. Situated on the edge of Stoke-on-Trent its Visitor Centre hosted visits from school children to study the local geology and biology. The GeoconservationUK Education Project [Earth Science On-Site] uses former aggregates sites like Park Hall to develop examples of high quality Earth Science field teaching activities for schools. Education for primary school students in Stoke-on-Trent is some of the worst in the country. It is hard to get schools to get the children outdoors and studying their natural environment but Park Hall Visitor Centre was a success. Instead of the centre having to chase the schools, the schools contacted the centre. Many had repeat visits booked annually in their diaries. Then on the night of November 6 thoughtless vandals broke into the centre, set a fire and razed it to the ground. The conflagration took with it tens of thousands of pounds worth of education materials for the school children of Stoke-on-Trent and the wider area.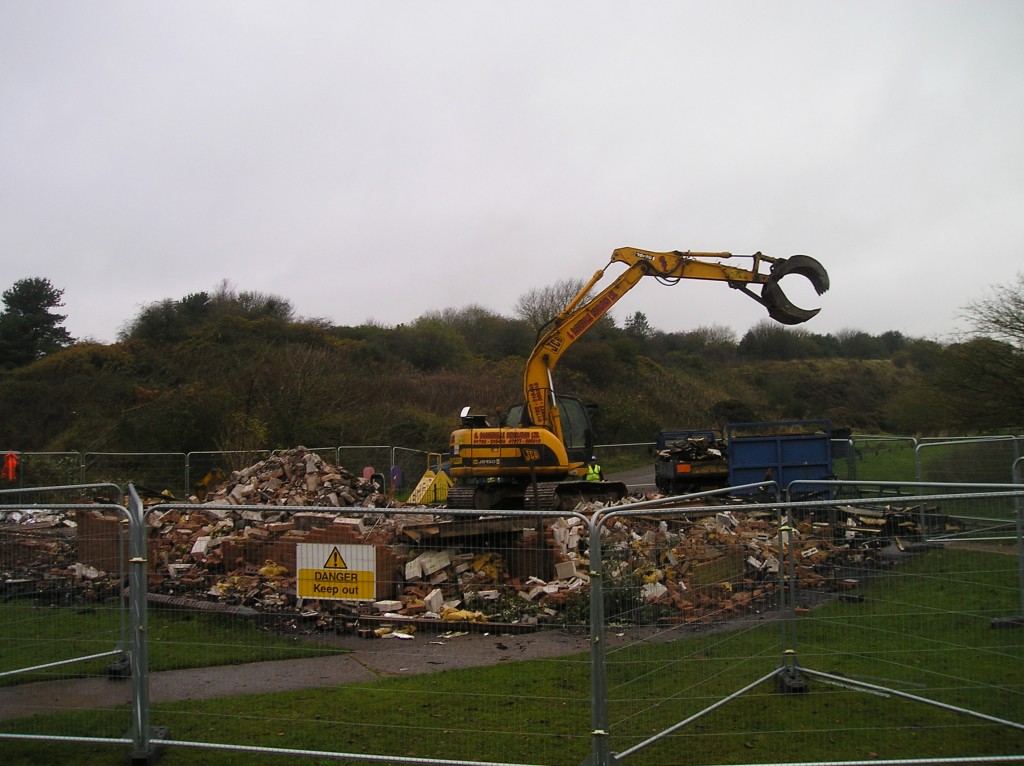 [image: Demolition work at the Park Hall vistor centre after the fire. source: John Reynolds]
Other display material was lost including examples of local Carboniferous Coal Measure plant fossils had been lost in the blaze. It is the shear mindless thuggery of it all that saddens me. They also targeted a saddlery and several horses could easily have died.
Attempts are now under way to try to persuade Stoke-on-Trent City Council to rebuild the centre and have geology teaching as a showcase part of the new centre. However, in these straitened times it is always possible that this will prove impossible.
Another Earth Science On-Site location on the Kidderminster Formation has also been targeted by vandals. Barr Beacon, Walsall has had its war memorial roof stripped of copper by metal thieves. Whilst not affecting the geology of the site, including the Staffordshire Tixall Stone used for the memorial steps, this is still sickening.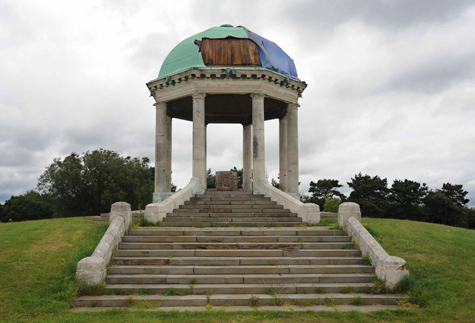 [image: Barr Beacon War Memorial targeted by metal thieves : source Express and Star]
From England to Scotland where they have been having their own problems. On the beautiful Isle of Skye, perhaps more famous for its igneous rocks than its sedimentary ones, there are exposures of fossiliferous Jurassic rocks that have yielded the only Scottish dinosaur remains. Bearreraig Bay, north of Portree, is another SSSI, where any collecting is limited to that for scientific use, and that by permission only. Those convicted for either damaging a SSSI or collecting without permission can be subject to an unlimited fine. The section appears to have been attacked with a crowbar with several tonnes of rock moved in an attempt to extract fossils and dinosaur footprints may also have been removed from Valtos.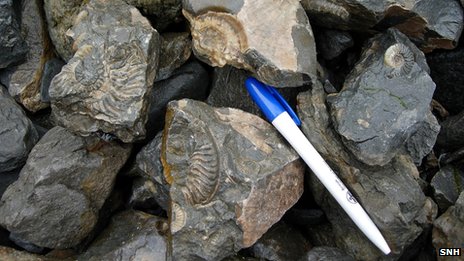 [image: Damaged fossils at Bearreraig Bay. source: Scottish Natural Heritage / BBC]
It would appear that the recession is driving a minority to increasing levels of theft, be it metals or fossil material. Another sign of the recession is the loss of UNESCO Geopark status by the Lochaber Geopark. UNESCO require that a permanent project officer be employed. It has been increasingly difficult to obtain funds for geoconservation funding. Where I am in Staffordshire all regular sources of funding have dried up (or appropriated by the national government), so it is little surprise that the volunteers in Scotland have struggled to raise the money for a salaried member of staff. This is the real Big Society, volunteers working for the good of the community and it is failing through lack of proper funding and support.
The Lochaber Geopark includes Glen Roy with its famous "parallel roads", the shorelines of glacially dammed lakes. Charles Darwin visited Glen Roy in 1838 and described it as "far the most remarkable area I ever examined." Darwin, however, was a much better geologist than a glaciologist, and ascribed the roads to marine effects.
The general mood in British geoconservation is on a downer. Funding has largely dried up and the government's new planning laws appear to be ignoring any special consideration of local geodiversity or biodiversity sites. And, to top it all, the government has issued a new White Paper, the first such on the natural environment in over twenty years, called Natural Choice. It fails to mention 'geology, geoconservation or geodiversity' anywhere in the document. Here is their definition of 'natural environment'
"In this White Paper, we have given 'natural environment' a broad meaning [sic]. wildlife, rivers and streams, lakes and seas, urban green space and open countryside, forests and farmed land. It includes the fundamentals of human survival: our food, fuel, air and water, together with the natural systems that cycle our water, clean out pollutants, produce healthy soil, protect us from floods and regulate our climate. And it embraces our landscapes and our natural heritage, the many types of contact we have with nature in both town and country."
The definition simply isn't broad enough. Perhaps they should have used Wikipedia
"The natural environment encompasses all living and non-living things".
The lack of mention of geodiversity means that councils are already cutting back on their geoconservation work as they say that it isn't now covered by government thinking.
At the moment those of us who work in geoconservation are feeling unloved, underfunded and under attack. Dark days indeed.