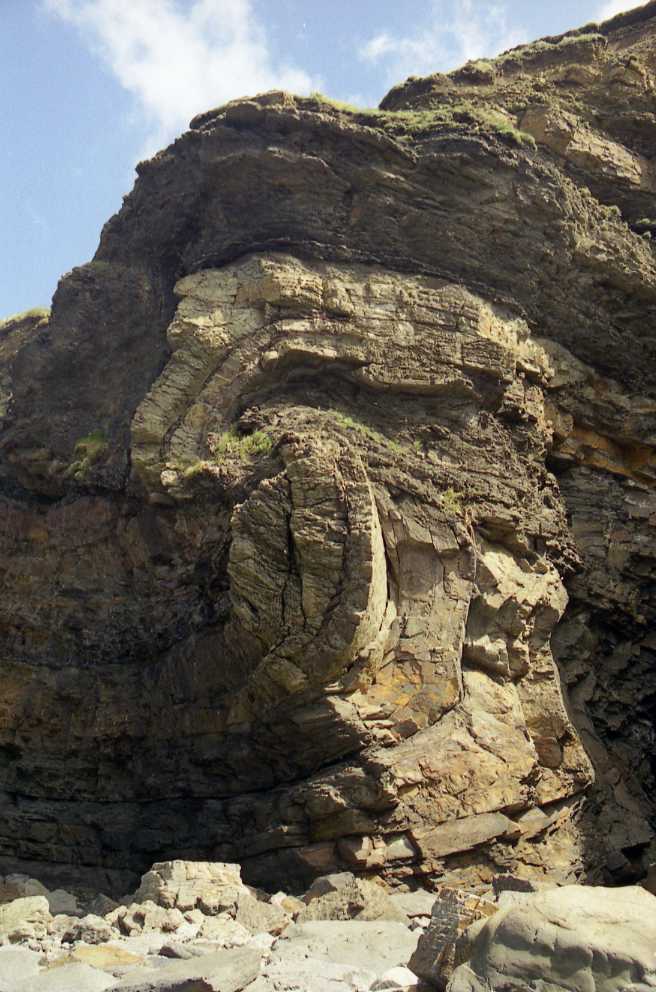 I've blogged briefly about this structure before here in my list of places that all geologists should visit in the UK. It is the quite spectacular Variscan fault propagation fold and Broadhaven, Pembrokeshire, Wales.
As the thrust in the middle of the section propagates up through this sequence of Upper Carboniferous sandstones and mudstones it folds them ahead of the thrust tip. Eventually, the thrust cuts through the fold, separating the hangingwall anticline from the footwall syncline.
I've already previewed our MIS:TIQUE project, attempting to use gigapan technology to help provide alternative geological learning experiences for mobility impaired students. I am giving a presentation on this topic at Keele University's annual teaching innovation day on Friday so I've been working on the data that was collected over the Easter vacation.
One of the main reasons in getting my own domain and hosting this blog myself was the previous inability to insert gigapans and the like into blog posts when using wordpress.com – with a hosted version of wordpress this is now possible.
A full screen version can be found here.
This is one of the two gigapans than I have shot of this structure. This was shot hand held with my Canon 5D and stitched using Canon stitching software. I was experimenting a bit with this one just to see what it would turn out like with automatic focus and exposure. I think it turns out quite well and is sharper than the one I took with the Canon G10 on fixed focus and exposure and using the gigapan robotic mount which you can find here.
I also experimented by uploading all of the images from both cameras into photosynth, and again I'm quite pleased with the results which can be seen below.

The full photosynth can be found here.