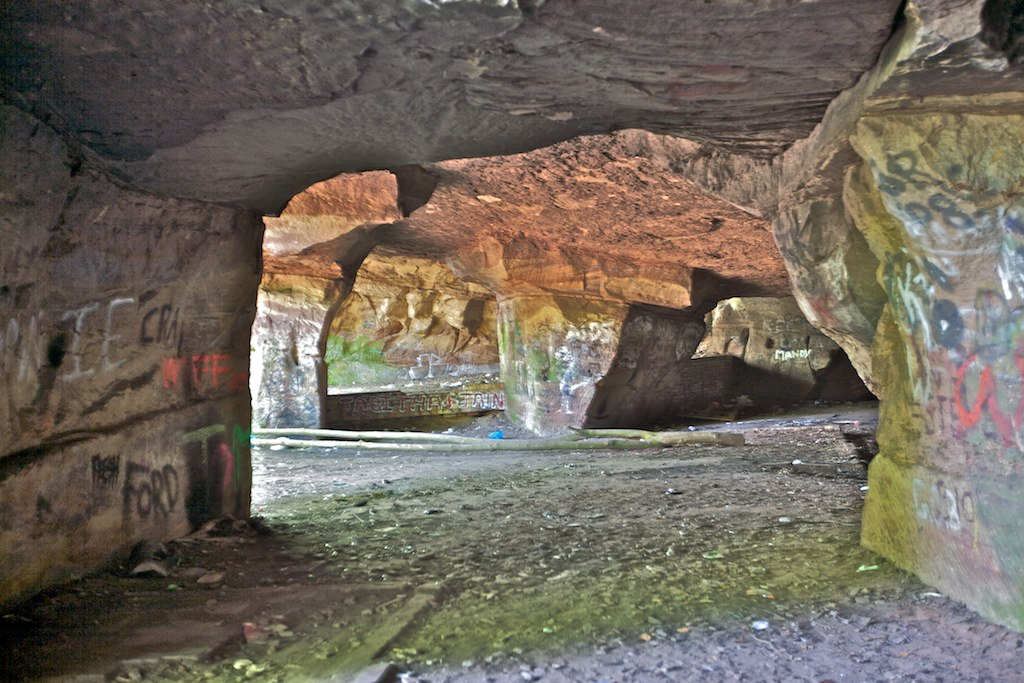 Now that teaching and exams have finished for another year, thoughts turn to the field. Whilst the likes of Geotripper and Dr Jerque get to visit some spectaclur and unspoilt places, my field work takes me to somewhere interesting but not quite as pretty. These are Beech Caves in Staffordshire.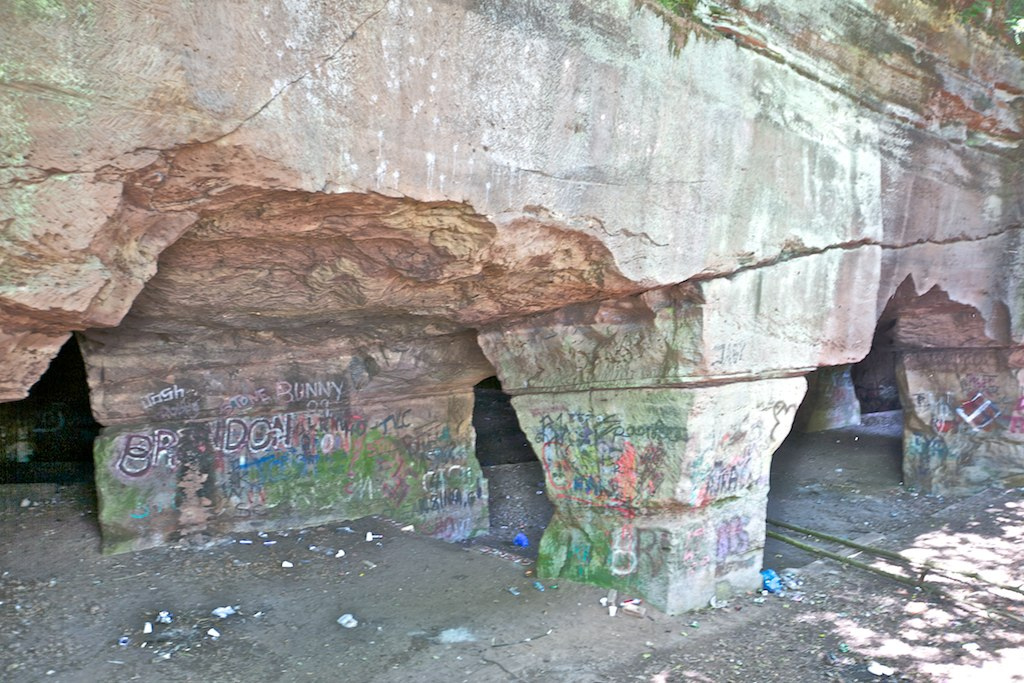 The caves aren't natural but the result of mining the Triassic Bromsgrove Sandstone (formerly the Keuper Sandstone) for building stone. The pillar and stall workings were begun possibly in 1633 for the construction of the nearby Trentham Hall. The Trentham records for August 31st 1633 note a Roger Low being paid 22 pence per score for carrying 130 foot of stone from Beech.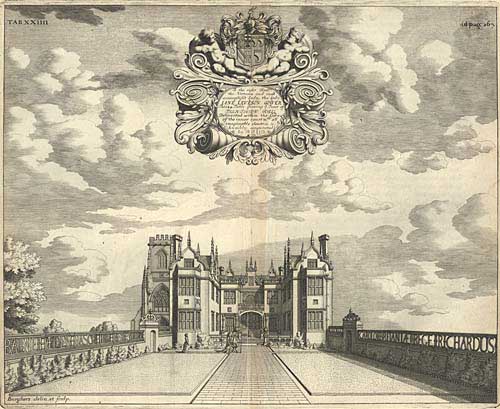 Trentham Hall 1686 : Image source – Lost Heritage
This was the first of several halls at Trentham, being rebuilt in 1690 and again in the 1830s, ultimately becoming one of the finest buildings in England. Unfortunately, pollution from the growing Potteries conurbation filled the lakes with sewage and the magnificent hall was abandoned and demolished in 1912. The gardens did remain and now the lakes have been cleaned and the gardens refurbished (well worth a visit) there are plans to rebuild the hall as a five star hotel.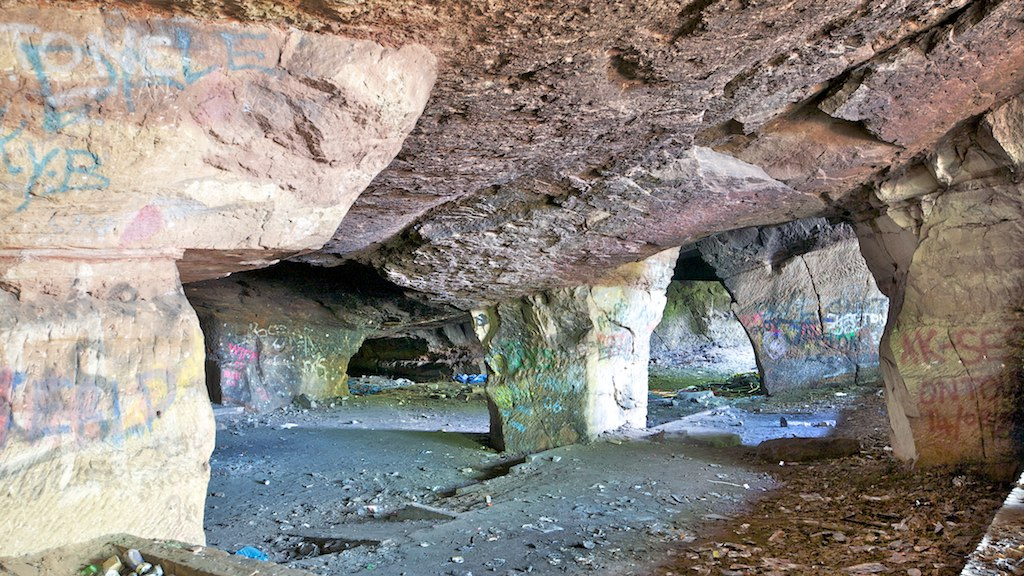 Beech Caves still show the evidence of the hand-pick marks by the miners as they followed a layer of pale-coloured sandstone dipping gently down into the hillside. The thick overburden made mining rather than quarrying a more attractive proposition.
In more recent times the caves were probably used as a munition store in the second world war but lately they have been used for raves and other undesirable activities. The caves are now litter strewn and graffiti covered. The land owner and the local council now want to block off the entrances to stop the ne'er-do-wells from getting in. However, in doing so, they will bury an important piece of Staffordshire's geological history. It would be a great shame if these historic pillar and stall workings were lost. Whilst understanding the landowner's concerns for the site, it is hoped that some limited, secure access can be maintained for historians and geologists alike.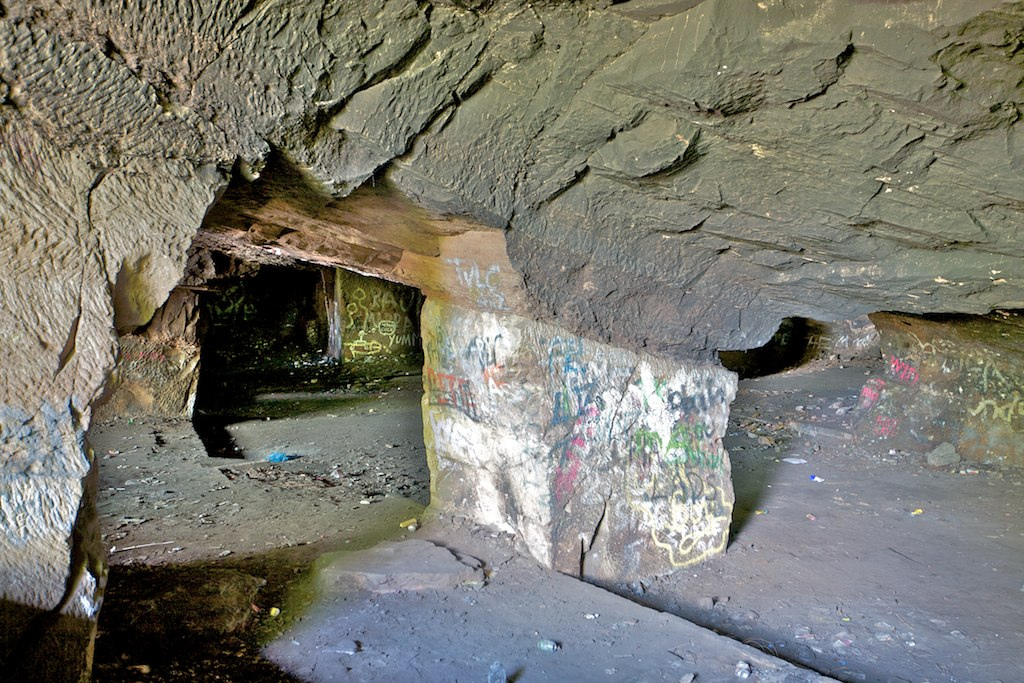 Reference: Middleton T, 1986. A survey of Beech Cave, Staffordshire. Bulletin of the Peak District Mines Historical Society, 9, 401-403