A New Start.
It has been a while. I haven't blogged in over a year. The perceived and actual stress of my job, my workload, the death of my mother, all got to me. It directly and indirectly affected my health, culminating with a short enforced sabbatical in the cardiac unit of the Royal Stoke University Hospital last summer.
Well, I am happy to report that after the excellent care that I received at the RSUH, and some interesting experiences that I don't particularly wish to repeat, such as two-and-a-half hours in an MRI scanner, the drugs are working and I'm slowly rebuilding my life.
I need to do two things. First, to regain some basic fitness both for my general health and the forthcoming field season and, second, to get back in the habit of writing.
To accomplish the first I have been out walking but I need something to give me a goal to achieve in order to enhance self-motivation. Whilst I don't currently have the stamina for hillwalking I have hit on a plan to walk along canal towpaths as these are generally on the flat. So, my goal for 2017 is to walk the Four Counties Ring and I thought I would document it here to get back into the writing habit again.
The Four Counties Ring
The Four Counties Ring is 175km (110 miles) of canal and towpath, with 94 locks, encompassing the Middlewich Branch and parts of the Main Branch of the Shropshire Union, the Staffordshire and Worcestershire, and the Trent and Mersey Canals. It passes through Staffordshire, Cheshire, Shropshire and part of the modern abomination of the 'West Midlands Metropolitan County', which used to be in the old shire county Staffordshire.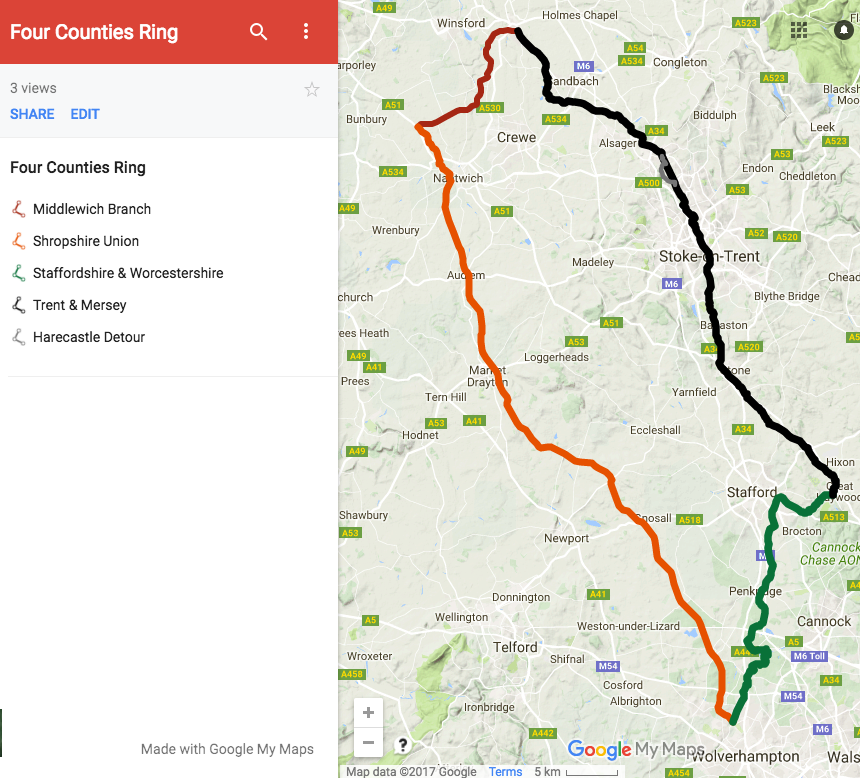 Canals and Geology
As I circumnavigate the Four (or Three) Counties Ring I shall try to expand on the relationship between the canals and the geology. The first link is with the cargos. Geological materials such as clay, building stone, coal, etc., were largely too heavy to transport in bulk on the old roads and the canals became the main highways for moving them. The major towns on the ring are there because of their geological materials, Stoke-on-Trent for the Carboniferous coal, iron ore and pot clay, Middlewich for the Triassic salt. Second, the underlying geology subtly influences the route of the canals the and locations of locks.
So, 2017 – a year of walks, canals, geology, blogging and photography – I hope.